Let's get one thing straight: Your Smile! When you think of orthodontics, you probably think of metal braces. That's okay, everyone does. But at Curtis Orthodontics we give you more choices and options. In fact you might be surprised at all of the various ways we can improve your smile!
Learn About the Different Types of Braces
Everyone's smile can use a little improvement. If you are dealing with issues like too many teeth, gaps in your grin, teeth or jaws that don't line up properly and problems with your bite, you may have trouble eating and speaking. And you may feel a little self-conscious about the way you look. The problem won't go away on its own. You need to see Curtis Orthodontics for an exam and have a talk about braces.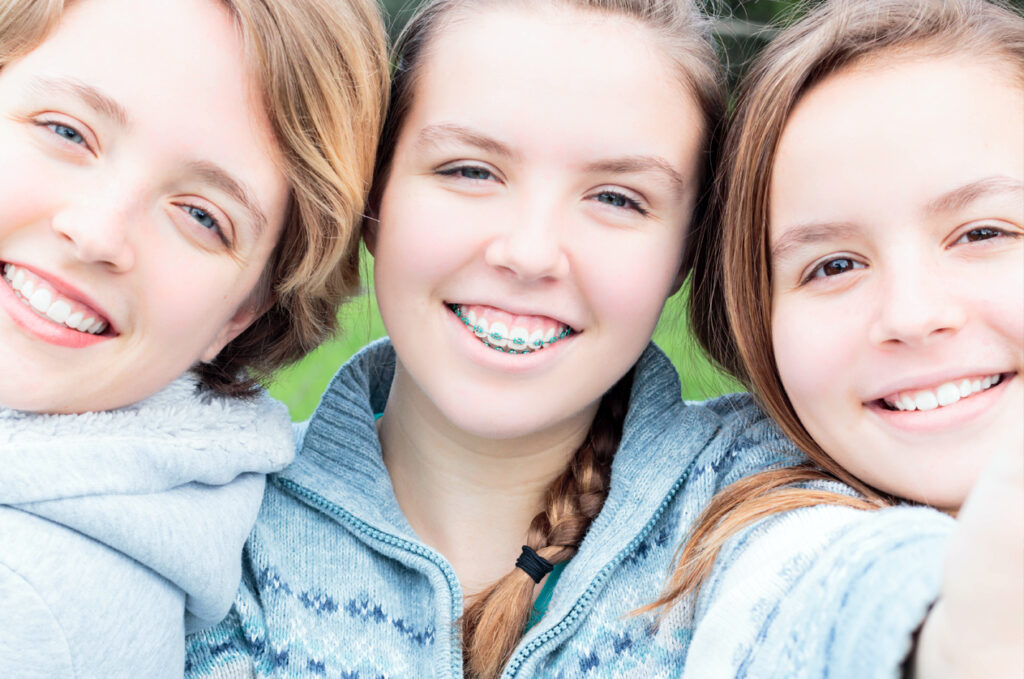 Traditional Metal Braces
Are you looking for a straighter smile? You can't go wrong with traditional braces. Braces have been used for years (and by years we mean around 100+) to help people get the straight, healthy smiles they need and want.
The short version is this: braces are made up of wires, brackets and bands that connect with each other to slowly move your teeth and your jaw muscles into the right places. It takes a while, and you will visit us on a regular basis for checkups and adjustments. But trust us, it's worth it.
Life with braces takes a little getting used to. After all, it is a big step, but our team will be with you all the way, right up until the day your braces come off and you are ready to share your new smile with the world.
Ready to get started? While other practices can take multiple visits before braces are put on, when you chose Same Day Braces <<text link to /treatments/same-day-braces/ at your free consultation you can get them on and be on your way to a better smile.
Clear Braces
Say the word "braces" and what do you think of? Probably a junior high or high school yearbook, with kids smiling behind mouthfuls of metal. Our orthodontists and our team have a nearly invisible solution. When you come in to Curtis Orthodontics, ask our team about clear braces in Coeur d'Alene, Idaho.
What are clear braces? Well, they are clear braces, just like the name says. They do the same thing as regular braces, which is to gently move your teeth and jaw ligaments into the right places. But since they are clear they are harder to see. That doesn't mean they are completely invisible, but they are significantly less visible than metal braces. That means when most people see you smile they will be looking at you and not your dental work.
Damon® Braces
Braces can take a lot of time out of your life. That can be a good thing because straightening your smile is an important job and it needs to be done right. But if you have a busy school or work schedule, or are just on-the-go, it can be tough to find the time to see our orthodontist. So how do you get the smile you want without spending a lot of time staring at the light over the exam chair at Curtis Orthodontics? There's an easy answer to that question: Damon® braces in Coeur d'Alene, Idaho.
When you decide to get braces, we can almost guarantee that your first question (or at least one of them) will be "How long will I have to wear these?" We use Damon self-ligating braces, which have the reputation of being the best around. Not to get too technical, but Damon braces have a special slide mechanism which means you don't need the elastics (rubber bands) or metal ties to hold your wire on. Still with us? Okay. Basically, using the clip on the wire means you don't need to have your braces tightened, which equals fewer trips to the office. With less hardware, your braces attract less attention, and less tartar and plaque. And since we don't want to keep something this good all to ourselves, we make a point of offering Damon braces to each of our patients.
Clear Aligners
Clear aligners, like Invisalign®, are a series of invisible, removable, and comfortable acrylic trays that straighten your teeth like braces. Not only are the aligners invisible, they are removable, so you can eat and drink what you want while in treatment, plus brushing and flossing are less of a hassle. The aligners are comfortable and have no metal to cause mouth abrasions during treatment. Learn more about Invisalign. 
We're Ready When You Are
If you would like to learn more about how you can get started on same-day braces in Coeur d'Alene, Idaho, let us know. Our orthodontist and team look forward to meeting with you!
We understand that choosing to receive orthodontic care is a big decision and your first visit to our office is the first step. 
Since no two patients are the same, your first visit is aimed at getting an understanding of your oral health and teeth positioning. We will review your medical history and conduct a thorough exam, with X-Rays, to get a comprehensive look at your mouth. 
We create completely customized treatment for each patient to ensure you reach your full smile potential! If you are a good candidate for braces, our team can help you get started with our Same-Day braces program! Not only do we save our patients money, we save you time!
At Curtis Orthodontics, we want to help you get the smile you love with treatment as comfortable and convenient as possible.
At Curtis Orthodontics, we make you our top priority! We create beautiful, confident smiles for all ages by offering advanced orthodontic care that's designed to deliver the ideal treatment experience and results to ensure you achieve your best smile!
How much will braces cost? Are financing options available? How does my insurance work?
We can only determine treatment costs after your initial consultation is completed, as each patient's case is unique. You can learn more about our Financing & Insurance policies on our website, or speak to one of our staff members at the office. We'll review your financing options with you, and will work with you to maximize your insurance benefits.
Will I need to have teeth extracted for braces?
It depends on your unique situation, but sometimes in order to achieve optimal results, teeth may need to be removed. However, advanced technology and methods have made this less common.
Can I wear braces even though I have crowns or missing teeth?
Yes, absolutely! A tooth will a crown will move just like a regular tooth, and treatment will aid in the alignment of the remaining teeth.
Do braces hurt?
Braces or Invisalign don't "hurt," but for the first couple days you may feel some slight discomfort. When there is soreness, Motrin or Advil (ibuprofen) can help ease the discomfort.
Can I return to school/work the day I receive my braces?
Absolutely. There's no reason why you shouldn't be able to return to your normal daily life.
What are you waiting for?
Feel Confident in Your New Smile
If you are ready to take control of your smile, then you are ready to see our orthodontists in Coeur d'Alene, Idaho. If you want to eat, speak, feel and look better, then it's time to start thinking differently about your teeth. Your "Curtis Smile" is waiting for you at Curtis Orthodontics!